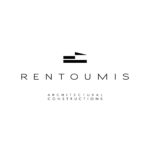 Rentoumis Architectural Constructions
About the Company
Rentoumis Architectural Constructions was established in 1981 by Tasos Rentoumis, following the completion of his architectural studies at the Ecole Special d'Architecture in Paris.
It is a boutique development firm specializing in providing luxurious new residences in some of Athens' most coveted suburbs. Over the years, we have undertaken the design and construction of numerous residential buildings, primarily located in the Athenian Riviera, including areas such as Glyfada, Voula, Vouliagmeni, and Saronida.
We take full control of all aspects of our projects, starting from site acquisition, comprehensive architectural master planning, concept design, construction management, and supervision, all the way to interior design. Consequently, we deliver fully finished properties featuring top-tier finishes and boasting A++ energy efficiency. Our commitment is to ensure that our projects are given the attention needed to create contemporary and elegant properties that not only distinguish themselves but also remain practical for modern living and timeless for generations to come.
We work with a team of highly skilled architects, designers and projects managers as well as our very experienced construction foremen.
Together, we strive for architectural quality, and the creation of warm, airy and sumptuous living spaces based on simplicity and sophistication by harmoniously combining a variety of materials and elements.Tasos' appreciation for architecture and attention to detail complemented with his experience in the field has positioned Rentoumis Architectural Constructions into a renowned and successful player in the area.