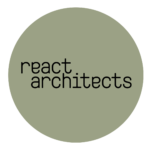 react architects
About the Company
REACT ARCHITECTS is an office of architectural studies that aims at a theoretical approach to Architecture, through a research-oriented procedure.
Architecture is faced as an entirety in collaboration with all specialties that supplement the constructional and artistic creation. The office studies small and big-scale projects, public (libraries – hotels, cultural centers, landscape design, etc.) as well as private (residences-office – exhibition kiosks -shops etc.).
Interior design constitutes an important sector of our work. Interior design of residences, office spaces, hotels, and shops are some of our fields of work.
Our experience with a wide spectrum of projects gives us the advantage of proposing design applications with originality and uniqueness.
We strive to combine archetypes found in Greek architecture with design ideas that meet the demands of 21st-century needs. Thus experimenting with an aesthetic vocabulary we create the junction between ideas and construction.
Office Projects has been published in Greek and European magazines. Its founding members have participated in Greek and international competitions gaining awards and distinctions.