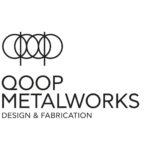 QOOP METALWORKS
About the Company
QOOP METALWORKS is a company based in Athens with a wide range of works that integrate  architecture, design and fabrication.
Operating through a series of scales, uses and artistic forms, the primary interest of the practice lies in the implementation of metal structures in relation to buildings, objects and artifacts.
Fully involved with the unique requirements of a project, the practice aspires to offer and implement unique design and construction solutions. qoop's philosophy is characterized by an open and inclusive approach to collaborations with artists, architects and engineers.