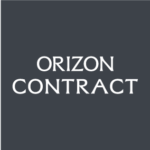 ORIZON CONTRACT
About the Company
Initially providing architecture & interior design consultancy, our company delivers a consolidated offering to support projects in various phases from acquisition, design, engineering, project management, financial planning, legal support, and construction to the critical close-out stage. The team comprises internal and external professionals to deliver the highest quality of service and the most appropriate service for each project.
Working alongside Orizon Global group companies (Orizon Living, Carwan Gallery, etc…) on various subjects gives us a unique holistic perspective and advantage.
We are a small team of young hard worker professionals, multi tasking on various exciting high end projects.