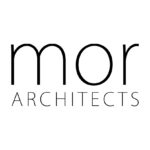 MOR ARCHITECTS
About the Company
MOR ARCHITECTS is an award-winning architectural practice based in Athens, Greece, established by Demetra Rachmanidou and Spyros Mountrichas, devoted to conceptual architecture. Our design philosophy emerges from integrating philosophy and architecture to create a meaningful and conceptual built environment.
An award-winning practice in numerous architectural competitions, among them, 1st price for the New Archeological Museum of Sparta, 1st price for the Maintenance – Reconstruction – Reuse of the " Konaki Averof" Building, 3rd price for the Renovation of Four Buildings of the Aegean Univesity in Tabakika, Samos, 2nd price of the Strategic Spatial Development Study of the Piro – Parapiro Dam Area.
Our team has designed a wide range of projects which vary in scale and program, from small-scale private residences to large-scale urban facilities such as museums and multi-functional cultural spaces.
In our design process, we follow an interdisciplinary approach combining structural, MEP, environmental, sound, and light consultants integrating advanced BIM technology.