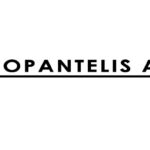 Koufopantelis Architects
About the Company
Koufopantelis Architects is an international architectural studio based in Athens, Greece, working at the intersection of design, research, functionality, innovation and critical environmental practices.
We are handling mostly projects of private residences and vacation housing, as well as hotels, work places, stores, restaurants, cafes and bars.
At the studio we are reimagining a visual language that combines and considers cultures, harmony with nature and history while simultaneously creating and living in the future, now. Motivating people to live better lives now through architecture.
Our mission and most valued goal is always creating a perfect balance between functionality and design