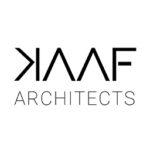 KAAF – Kitriniaris Associates Architecture Firm
About the Company
The acronym KAAF has a deeper inherent meaning, as it is derived from a pictogram of a hand which means "palm" in Arabic and stands for the Phoenician letter "kaf/kaph" or the Greek "K" (kappa).
The palm of the hand has a strong impact on architecture, as it embodies human creativity together with structural purity. By keeping this in mind, Alexandros Kitriniaris, deeply influenced by his travels to Asia, where he explored the handcrafting tradition, has created his own imprint while envisioning a firm that specializes in sustainable architecture by integrating innovative construction technologies with traditional building design methods.
KAAF I Kitriniaris Associates Architecture Firm is an award-winning international architecture practice, founded by Alexandros Kitriniaris.
Kitriniaris Associates Architecture Firm is committed to the triple bottom line concept, which asserts that long-term and sustainable progress requires the balanced achievement of economic development, environmental performance, and social advancement. To this end, our firm works with a multidisciplinary team of architects, landscapers, urbanists, structural and environmental engineers, interior designers, branding agencies as well as creative developers and investment companies to produce sustainable buildings and landscapes.