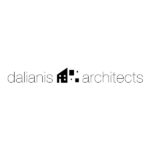 Dalianis Architects
About the Company
Dalianis Architects has been designing and constructing in Corfu for more than 50 years. The firm was established by Konstantinos X. Dalianis in 1965 gradually placing the office on the top shelf of the build environment offices, having up to now created more than 2000 projects.
Today, the successful route of the company is furthermore strengthened by the following Dalianis Generations (Dalianis Dimitrios – joined 1990 and Dalianis Konstantinos – joined 2011) and have expanded their portfolio which now offers the following services:
Architectural design
Building Permits
Construction & Management
Interior Design
Our long term experience, education, multicultural environment and international influences are deeply embedded in our office's philosophy, providing high-end services which are standing out due to their simplicity, functionality and coherency.
Our firm cooperates with distinguished professionals in the construction field, who share the same passion and ideals and who understand our architectural concepts in depth.
Our philosophy is based on the belief that architecture should not be a commodity but a service for all, having the human being in the focal point. Functionality and aesthetics are integral parts of our society, therefore of architecture too. As a result, through research and design innovation, with clear methodology, we excel in understanding and improving our clients' aspirations, proposing architectural solutions that are radical and contemporary, meaningful, yet remain respectful to the history, area and environment. Research and experimentation give us the edge to have a clear concept, story and identity, without losing the sense of place or budget/time control, creating unique projects for each different scenario and client, as all of us are different!
Our mission is to provide complete and contemporary architecture and construction services that are highlighted by refined aesthetics and the attention to each detail. By incorporating creatively, the clients' aspirations and the areas circumstances along with our contemporary architectural philosophy, we want to aid in elevating the quality of life of everyone involved, as well as the environment, whilst at the same time doing justice to the land and the area.