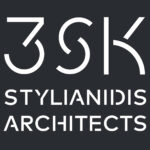 3SK STYLIANIDIS ARCHITECTS
About the Company
3SK Stylianidis Architects is a registered practice in Athens, that operates both in Greece and abroad.
The practice was founded in 1969 by Antonis Stylianidis.
3SK Stylianidis Architects S.A. was founded in 2004.
Today, the company operates under this name and undertakes any project in the wider design field: public buildings, cultural centres, theatres, museums, offices, retail, banks, hotels and hospitality projects, as well as private houses and residential complexes.
3SK Stylianidis Architects has successfully designed – supervised and completed more than 50 newly built large-scale luxury Hotels, renovated Hotel complexes, and has undertaken difficult remodelling of listed buildings. Our experience in the Hotel – leisure field is extensive and we are committed to providing the client with an excellent end-product, and most importantly a successful one. The Hotel projects we have designed are amongst the best and strongest in the market.
As a result we are highly qualified in managing complex construction projects and competent for coordinating all necessary studies and bureaucratic procedures.