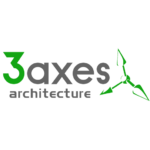 3axes architecture
About the Company
The practice "3axes Architecture" based in Syros, Cyclades was founded by Architect Giannis Giannakas and his associates in 2013.
Our projects deal with residences, hotels and commercial buildinds and our services cover all areas of engineering suport, architectural studies and project management.
We goal to combine our enhanced design knowlegde with thorough work and innovative thinking and thus deliver original and comprehensive studies. Our fresh mood and our friendly communication with our clients, colleges and partners create a pleasant colaborative atmosphere.